It's that time of year again when thousands of people flock to Jasper, Georgia for the annual
Marble Festival
.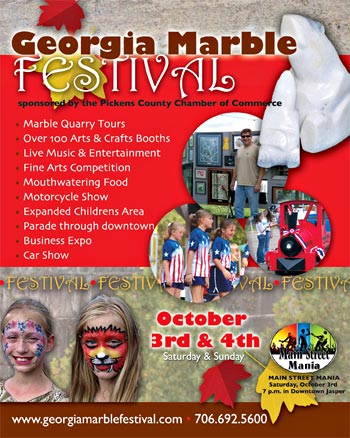 This Saturday, October 3rd, will be an excellent opportunity to participate in the Great Commission with us as we hand out tracts and share the gospel one-to-one with people who may have never heard the good news before.
Please consider joining
'His Feet on the Street'
as we engage people about their spiritual beliefs, find out where people believe they are going when they die, hand out some tracts and personally share the gospel!
Where : Lee Newton Park (Directions on the above link)
When : 2-5 pm
We will meet at the paying entrance to the Festival.
Note: We will
NOT
be going into the Festival grounds. We will meet at 2pm outside the paying entrance and group up 2x2 to hand out tracts and witness on the public sidewalks just outside the grounds. Hundreds of people will walk these sidewalks to and from the Festival.
If you have any questions, please email me at waynedawg@tds.net